LA Phil Gala Invite
Roles:

graphic design, concept development, production

Design Firm:

YYES

Creative Director:

Ron Fleming
YYES was tasked with creating an invite for the Los Angeles Philharmonic annual gala. The aim was to invoke the feeling of "opening an award envelope at the Emmys," while also incorporating dance to address the 2012 gala theme.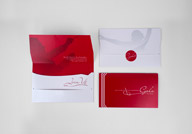 Contributions to the project were design and layout development, material choices, production, and interfacing with printers.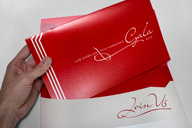 The invite had to look and feel expensive; this was accomplished by using custom die-cut envelopes with red foil stamps, a thick, heavy booklet, and rich UV inks flooded onto glistening pearlized paper.